By the CNN Wire Staff
April 29, 2012 -- Updated 2304 GMT (0704 HKT)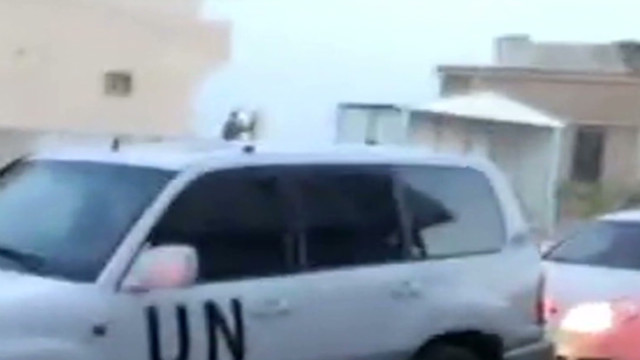 U.N. response in Syria mocked
STORY HIGHLIGHTS
NEW: Maj. Gen. Robert Mood, head of the U.N. observer mission, arrives in Damascus
NEW: "Even 1,000 unarmed observers cannot solve all the problems," he says
At least 25 are reported dead in Syria on Sunday, an opposition network says
Syria says it's met obligations under Kofi Annan's peace plan; a U.S. official disagrees
Are you there? Send us your images or video. Also, read this report in Arabic.
(CNN) -- Arriving in Syria on Sunday, the newly appointed head of a U.N. observer mission to the beleaguered nation said his effort will be futile unless all factions commit to peace.
"Ten unarmed observers, 30 unarmed observers, 300 unarmed observers, even 1,000 unarmed observers cannot solve all the problems," Maj. Gen. Robert Mood told a swarm of reporters in Damascus. "So I call on everyone to help us and cooperate with us in this very challenging task ahead of us."
After months of violence, Arab League-U.N. envoy Kofi Annan weeks ago helped broker what he hoped was a cease-fire.
Yet violence has continued in the Middle Eastern nation.
At least 25 people were reported dead across Syria on Sunday, according to the Local Coordination Committees of Syria, a network of opposition activists. The deaths include nine in Hama and eight in Homs.
The bodies of a father and son were found in a house in the western city of Homs on Sunday, days after a massacre in the city, the group said. In addition, security forces fatally shot four people in Deir Ezzor, Hama and the Damascus suburbs.
Demonstrations broke out in several cities, with participants chanting for freedom and demanding the regime's ouster. In Daraa, intense gunfire could be heard at checkpoints. The city lacked electricity.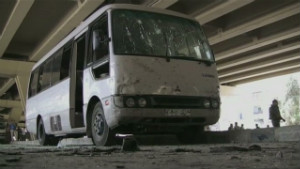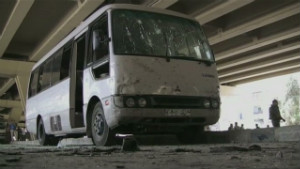 Suicide bomb in Damascus targets troops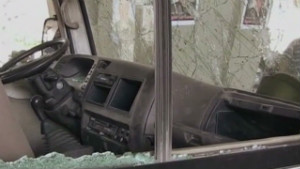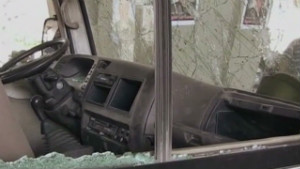 Annan's Syria peace plan may be dead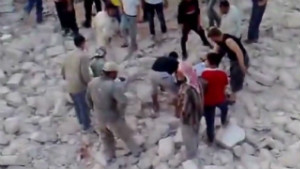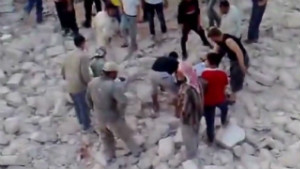 Opposition: Syria attack kills dozens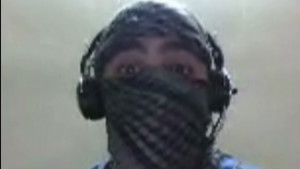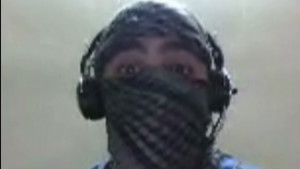 Report: Syrian killings after U.N. visit
Even given the tenuous nature of the cease-fire agreement, the United Nations is fielding a team to monitor Annan's peace plan in an attempt to forge stability and end 13 months of violence. Many of them arrived ahead of Mood, earlier this month.
He stressed Sunday that the success of Annan's initiative depends not on him and his fellow observers, but more on Syrian President Bashar al-Assad's forces and opposition fighters.
"To achieve the success of Kofi Annan's six-point plan ... I call on all to stop the violence and to help us on a continued cessation of violence in all its forms," Mood said, echoing a plea made by U.N. Secretary-General Ban Ki-moon and many others in recent months.
The state-run Syrian Arab News Agency reported Sunday that a delegation of U.N. observers was visiting the al-Khaldiyeh neighborhood of Homs.
Roughly 30 monitors are expected to be on the ground by Monday, and a total of 300 are slated to arrive in the coming month. The United States is not providing monitors but is helping with funding and logistics.
"This is a matter of utmost urgency for the United Nations and all efforts are in place to make sure that we get the people on the ground as quickly as possible ... apart from Damascus, we have permanently based observers in Homs, Hama, Daraa and Idlib, so this process will continue," said Neeraj Singh, the observer team's spokesman, on Sunday.
Opposition activists in Homs, a bastion of anti-government sentiment, have said attacks by al-Assad's forces only stop when U.N. monitors visit.
"We were able to get the civilians' corpses out of the streets because of the help and presence of the U.N. monitors," one man says in a video purportedly shot Saturday on the streets of Homs. "The corpses were dumped on the ground for over 40 days, and we couldn't get to them because of Assad's thugs and snipers. The bodies are decomposed, so we had to wear muzzles because of the foul smell so we can get to them and bury them. Just look the destruction that happened here in Homs because of Assad."
CNN cannot independently verify the authenticity of the video.
Since the cease-fire deadline passed April 12, at least 700 people have been killed, according to the Local Coordination Committees.
"The plan as a whole is failing thus far," U.S. State Department spokeswoman Victoria Nuland said Friday. "Obviously, we can all see that it is the Assad regime that is failing to meet its obligations under the six-point plan."
But Syrian state media slammed the "international community," saying it "continues to ignore the crimes committed by the armed gangs and their terrorist acts."
"We see the example of the Secretary-General of the United Nations recently avoiding any discussion about the violations by these armed groups while he only focuses in an outrageous manner the Syrian state as usual," an editorial in the state-run Tishrin newspaper stated Saturday.
Syrian Information Minister Adnan Mahmoud said armed terrorist groups have violated the cease-fire more than 1,300 times, "stressing that Syria has met its obligations" according to the Annan plan, SANA reported.
Syria has been engulfed in violence since March 2011, when government forces started cracking down on demonstrators who were peacefully protesting al-Assad's regime. The president's family has ruled Syria for 42 years. Some opposition members have since taken up arms against the regime forces.
The United Nations estimates at least 9,000 people have died in the conflict, while opposition groups put the death toll at more than 11,000.
CNN cannot independently verify reports of violence and deaths within Syria, as the government has restricted access by most of the international media.
Meanwhile, Lt. Riad Ahmed from the rebel Free Syrian Army said Sunday his group was unaware of an arms shipment purportedly destined for rebel fighters.
The state-run Syrian Arab News Agency reported a day earlier that Lebanese military forces seized weapons from Libya bound for Syrian rebels.
The military intercepted a ship in the Mediterranean Sea and found heavy and light weapons aboard, Lebanon's National News Agency reported. Ten crew members and the vessel's agent were arrested after the inspection in Salaata port, north of Beirut.
"For over a year, we heard that the Libyan rebels were planning to send us a shipment of weapons for our fight against the daily slaughter and the massacres committed against our people, but it was all rumors," Ahmed said. "We have been asking for weapons to protect our civilians, over and over, but we haven't received any support, whatsoever."
CNN's Saad Abedine, Holly Yan and Jill Dougherty contributed to this report.