By the CNN Wire Staff
January 14, 2012 -- Updated 0404 GMT (1204 HKT)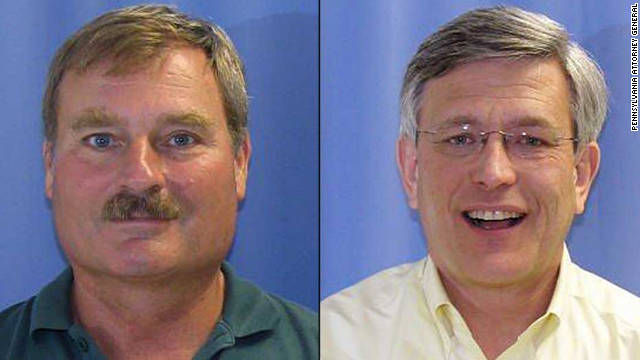 Gary Schultz, left, and Tim Curley pleaded not guilty to perjury and failure to report child sexual assault.
STORY HIGHLIGHTS
Tim Curley and Gary Schultz waive a court appearance scheduled for next week
They are accused of covering up the alleged abuse involving former coach Sandusky
Both men say they believed an alleged 2002 shower incident was not that serious
(CNN) -- Two former Penn State university officials pleaded not guilty Friday to their alleged roles in a child sex abuse scandal involving former assistant football coach Jerry Sandusky.
Tim Curley, Penn State's former athletic director, and Gary Schultz, a former university vice president who oversaw campus police, have been charged with perjury and failing to report an alleged 2002 sexual assault of a child.
They both entered pleas of not guilty, waiving a court appearance scheduled for next week, according to a spokeswoman for their lawyers.
A judge ruled last month that the perjury case against Curley and Schultz will go to trial, following graphic testimony from the prosecution's star witness in the case against Sandusky, who faces more than 50 counts involving sexual acts with 10 boys since 1994.
Mike McQueary testified that he told university officials that he saw Sandusky possibly sodomizing a boy in 2002, saying that what he saw was "extremely sexual in nature." McQueary was a graduate assistant for the football team at the time of the alleged incident.
But during a court reading of Curley's grand jury testimony, the former athletic director said he was not made aware of any sexual activity.
Curley, who after the alleged incident restricted Sandusky from using university property, said his decision was based on what was considered inappropriate but not sexual conduct.
He said he thought McQueary was just "uncomfortable with (Sandusky's) behavior and didn't think it was appropriate for Jerry to be in the showers with a young person."
But McQueary said, "There's no question in my mind that I conveyed to (university officials) that I saw Jerry with a boy in the shower and that it was severe sexual acts going on and that it was wrong and over the line."
Curley's attorney, Caroline Roberto, said after the December decision that McQueary has credibility issues, while Schultz's attorney, Thomas Farrell, questioned why police were never alerted.
Sandusky, meanwhile, has pleaded not guilty to all charges while denying any sexual activity with his accusers. Regarding the 2002 incident in the showers, he has said that he and the boy were just "horsing around."
McQueary, a former Penn State quarterback, testified that he met with Curley and Schultz to inform them about the alleged incident about nine days after first alerting then-head coach Joe Paterno.
Schultz testified to a grand jury that he recalled being told at a meeting that Sandusky "may have grabbed the boy's genitals while wrestling" and agreed it would be inappropriate sexual conduct between a man and a boy, the grand jury said. But he also testified that the allegations made were "not that serious" and that he and Curley "had no indication that a crime had occurred."
Neither man reported what he'd been told to local or campus police.
A grand jury investigation "found that portions of the testimony provided by Curley and Schultz were not credible," according to a summary of the grand jury report.
Curley, 57, is now on leave, and Schultz, 62, retired in the wake of the allegations. Days after the grand jury presentment came to light, Penn State trustees ousted President Graham Spanier and Paterno amid criticism that they could and should have done more.
CNN's Susan Candiotti contributed to this report.